Outline of Roll to Roll equipment
Set roll substrate (PET film, copper foil, polyimide etc) on air shaft of unwinding shaft. After all of a roll substrate is unwound you will be able to connect new set substrate on unwinding shaft by tape.
Dancer roller sends out substrate to wider with giving adequate tension on substrate. Tension volume is adjustable by manual. Tension volume range is about 1~10kg (roller weight is loaded uniformly on substrate width).
Wind sent out substrate by dancer roller with air shaft of winding shaft.Before winding shaft cullet removing or meandering correction (alignment) function is equipped. We have experience of meandering accuracy ±0.5mm in substrate width.
Utility CDA : ≧0.5MPa, electric power AC200V φ3 are necessary. In case you need high accuracy transfer servo motor drive and meandering correction (alignment) unit in winder unit is available.? We design and develop best suited system for customer request.
Equipments for Roll-to-Roll film processing
Roll to roll machineries include film roll mechanism and various chemical processing on film as etching, plating, cleaning and so on.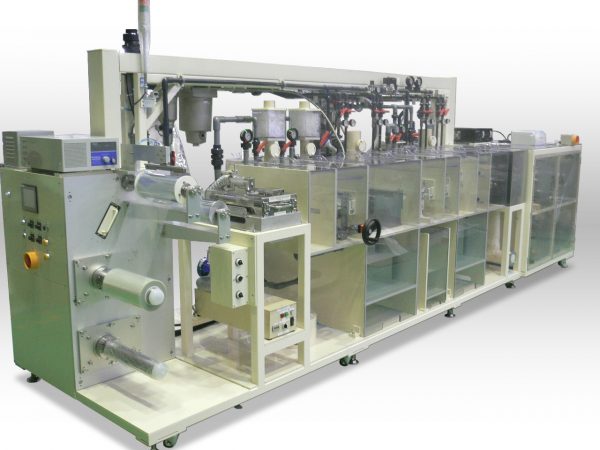 This equipment is Roll to Roll Cleaner for film (shaped) material.

This equipment includes from rough cleaning to final cleaning, drying and winding.

It can also clean film material with ITO film for OLED.
Characteristics

Process flow

Unwinder~ UV~ Brush(PVAなど) ~ Ultra sonic~ 2 fluid shower ~
M/S~ Direct water cleaning~ Water cut~ Drying~ Winding

Utility

Electric power( AC200・220V/50・60HZ ), DI water, City water, Cooling water, Scrubber,
Heat exhaust,(Steam)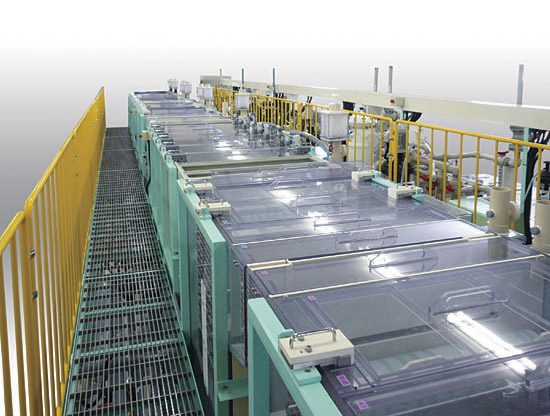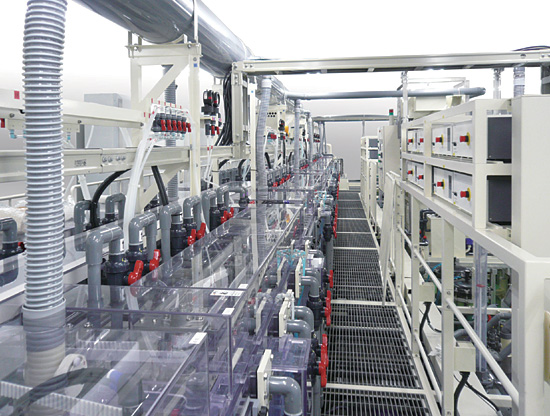 Characteristics
This equipment is electroless-plates on "conoductive base" formed in resin film. With our original technic it transfers thin material without damage and crinkle.
Equipment length can be shorten with adopting UP・DOWN・U turn layout.
Specification
| | |
| --- | --- |
| Lane layout | 1Lane |
| Transfer speed | 0.5m/min ( MAX 1.5m/min) |
| Material width | MAX 600mm |
| Material thickness | 50μm~ |
| Processed surface | One side or both side |
| Process flow | Unwinder~Stripping~Wet cleaning~Water cut~Drying~Winder |
| Utility | Electric power( AC200・220V/50・60HZ )、DI water, City water, Cooling water, Scrubber, Heat exhaust,(Steam) |
| Equipment size | 15m(L) × 2m(W) × 2.5m(H) ※excluding touch panel・incidental facilities |